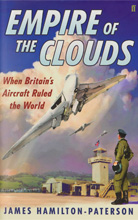 Empire of the Clouds
Faber & Faber, 2010
What started as a former schoolboy plane-spotter's essay in nostalgia ended on the edge of a rant about the way Britain's economy has been so badly mishandled ever since 1945. My fascination with aircraft and flying dates from my earliest memories and has never diminished. It was abundantly nurtured in the 1950s by the sheer number of different British aircraft in the skies and performing at airshows. There was enormous public interest in aviation at the time, springing from the almost religious respect in which the RAF was held by the end of the war as Britain's 'saviour.' The aircraft industry was Britain's largest – bigger even than coal mining or shipbuilding – and we were well placed to take the world lead in the new jet technology and even to be the first nation to break the sound barrier. But for various reasons it was not long before we were overtaken and only broke the sound barrier after the Americans had done so.
Nevertheless, aviation stories were immensely popular in the British press and in those days test pilots became folk heroes much as sports figures are today. My own hero was Bill Waterton, the Chief Test Pilot of Gloster Aircraft. He was a Canadian who was awarded the George Medal for bringing back his crippled Gloster Javelin prototype rather than ejecting. After that he became the Air Correspondent of the Daily Express and used his column with devastating frankness. He was highly critical of the way the British aircraft industry was run, and no less critical of the political floundering and indecision that killed off so many promising aircraft while wasting copious amounts of public money. Eventually his criticisms earned him the sack as doing nothing for morale in the Cold War and Waterton essentially disappeared for the next fifty years, vilified as the black sheep of British aviation.
But he had been right; and the progressive chaos and decline of the industry only confirmed his every point. It was doubly tragic in that against all odds, individual aircraft companies continued to design and built some wonderful aircraft. Yet in nearly every case they were too delayed to achieve their sales promise, or else the government or an airline changed its mind. There was no real national plan, no co-ordination of effort; and this lack was combined with poor management and outdated manufacturing skills. The steady run-down of the industry – together with that of nearly all Britain's industrial base – seems with hindsight to have been deliberate.
In 2009 I traced Bill Waterton's family in Canada, he having died in 2006, and was privileged to be able to work from his archive of log books, newspaper cuttings and photographs. Most of all, this book is a tribute to him and to the other test pilots of his era whose skill and courage made airline travel today as outstandingly safe as it is.